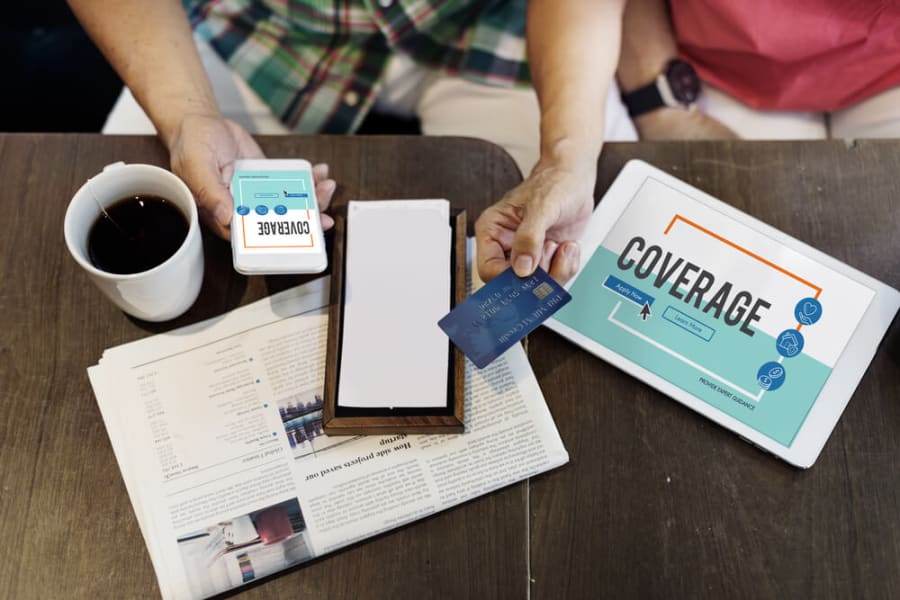 "My credit card is a lifesaver!" exclaimed Shravan.
"Sure, it helps get credit on your expenses, but calling it a lifesaver is a bit of a stretch," said his friend Sunil.
"Well, it's much more than that! It helps me earn reward points, capitalise on various cashback offers, and purchase products from online stores with no-cost EMIs. But that's not even what I'm referring to," said Shravan.
"What are you talking about? Now I'm intrigued," asked Sunil.
"That little plastic card in your pocket packs a bigger punch than you might imagine. While we leverage the use of credit cards primarily for payments, most cards come with inbuilt insurance benefits as well. Of course, these could vary depending on the card issuer and the scope of your individual card," said Shravan.
Shravan went on to explain that these benefits can be extremely handy when one is stuck in an emergency. This is precisely why it is important to take a look at the welcome kit that comes with a credit card, to understand in detail the benefits that come bundled with it.
If you too have been unaware of credit card insurance, here's a starter guide on the different kinds of benefits you've been missing out on:
Purchase protection
If you're an online shopping enthusiast and tend to buy expensive things off the internet, the purchase protection benefit is just what you need to ensure worry-free transactions. This benefit insures your goods from any theft or damage to a product purchased through the credit card. There is a limit on the cover depending on your credit limit, and card type (usually up to Rs 50,000) and validity of the said insurance (usually up to 180 days from the date of purchase). A copy of the invoice and First Information Report (FIR) will be required when reporting a theft.
Insurance credit
Uncertainty is the very nature of life and while there's nothing you can do to change that, you can surely safeguard yourself and your loved ones against unexpected events. And your credit card can be just the thing you need. Insurance credit allows a financial waiver on the outstanding balance in the event of the accidental demise of the cardholder. The amount of coverage provided will differ. Filing a copy of the card statement and death certificate is mandatory for registering a claim.
Personal accident insurance
It is recommended to opt for a comprehensive health insurance policy that covers all bases, but in case you need a little more backing, your credit card provides you with the necessary cover too.
While the insurance credit offers a waiver on the credit balance only in case of death, personal accident insurance provides claim benefits for serious injuries or death, ranging from Rs 2 lakh to Rs 10 lakh in case of road accidents and Rs 10 lakh to Rs 40 lakh in the event of an air mishap.
For an air mishap claim to be registered, the tickets should have been purchased using the same card. The set of documents required are the same as with insurance credit.
Rental car insurance
In the event of an unfortunate accident that occurs in a rental vehicle, you can opt to claim rental car insurance rather than shelling out for the damages from your pocket. This benefit again is only valid if you paid for the rented vehicle with the credit card. The insurance, however, doesn't offer third-party coverage to other vehicles and people.
Trip cancellation insurance
Whether it is due to a crisis at work or a sudden family commitment, trips may have to be canceled at short notice. If your tickets are booked via a credit card that offers trip cancellation insurance, you can make a claim for ticketing losses if the flight tickets are otherwise non-refundable. However, the claim is not valid in case of weather-related or pre-existing health conditions.
Lost baggage insurance
With all the logistics involved, sometimes there is the annoying possibility of not receiving your luggage at your destination. And you have to end up frantically searching for it and coordinating with the airline staff. If you're completely out of luck, you might not receive it at all.
If your baggage doesn't reach you within 48 hours at the point of arrival, lost baggage insurance allows you to put in a claim for all the items and valuables that weren't delivered due to the airline's negligence. Again, just as with the other claims, this is possible only if your ticket was purchased via your credit card.
Mobile replacement insurance
If you are clumsy, absentminded, or just plain unlucky to have your mobile lost or stolen, this relatively new card benefit can make good the cost of your handheld device. Just bring along a copy of the FIR, purchase invoice, and credit card statement showing the purchase was made from the said card.
There are a host of other insurance benefits that your card may provide; just read the material that comes with it and, more importantly, remember to claim a particular benefit if the chance comes up. Most banks now vie for customers based on such value-added services, so you should definitely factor this in while selecting a credit card.
For expert guidance on selecting the right credit card for yourself, just visit Chqbook!