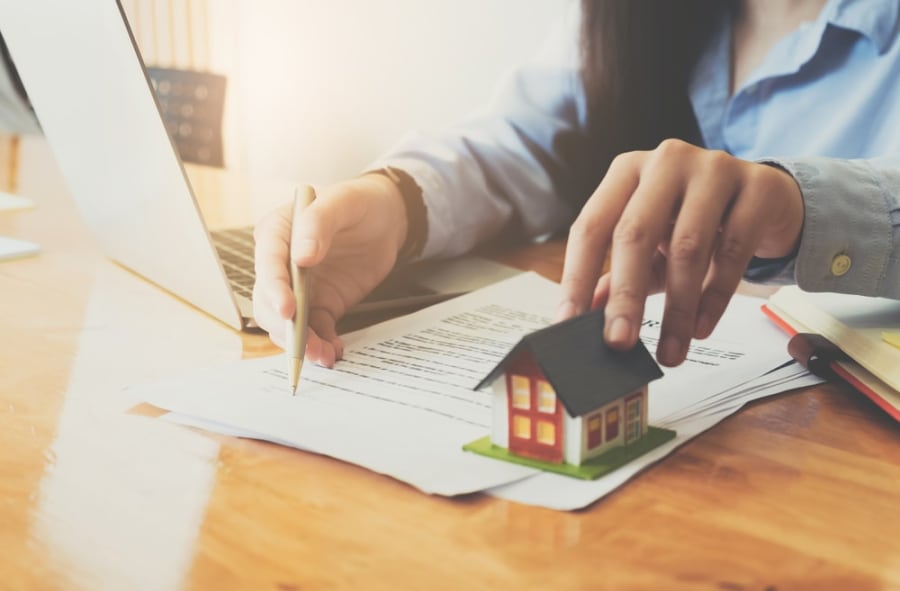 Owning a house is no less than a dream. But even with the rising property prices and bank rates, getting a home loan is not as difficult as it seems. While applying for a home loan, you need a number of documents for the verification process before the loan is disbursed. Each document is crucial, and some can be interchanged depending on the bank where you apply for a loan.
Here is a checklist of documents required for home loan application in India. Make sure you have all these documents ready before you begin the application procedure.
Documents Required For Home Loan:
Proof of Identification – Passport/ PAN/ Voter ID/ Drivers' License
HerAddress Proof – Drivers' License/ Passport/ Registered Rent Agreement/ Electricity Bill (as old as 3 months)
Employment Appointment Letter – Required in case the applicant has currently been employed for under 1 year
EmploymentEmoobfutaei453jttojhpoefjbaep' Financial Documents – 3 month salary slip, 6 month bank statement, 2 year Form 16
List of Common Documents:
Completed Home loan application form
Photo identity proof: Passport/ PAN/ Voter ID/ Drivers' License
Proof of Residence: Registered Rent Agreement/ Electricity or utility bill/ License/ Passport
Residence Ownership Proof: Rental agreement or property sale deed
Proof of Income: Bank statement, salary slip & Form 16
Proof of Job Continuity: Appointment letter & validation letter from employer's HR department
Bank Statement: History of the past 6 months
Property Documents: Katha, Transfer of ownership, sale deed
A cancelled cheque for bank account verification
Proof of investments: Mutual funds, LIC, property documents etc
Financial Documents:
For salaried individual: 3 month salary slip, Form 16 and bank statement
For self employed individual: IT returns for past 2 years, with computation of income tax for past 2 years by a chartered accountant
For self-employed non-professionals: IT returns for last 3 years, computation of income tax for past 2 years certified by a chartered accountant
Documents Required for Salaried Individual
Loan form: Bank loan application form to be filled with passport size photographs affixed
Address proof: Passport/ License/ Registered Rent agreement/ Utility bill (up to 3 months old)
Identity proof: Passport/ License/ Voter ID/ PAN
Income Proof: 3 months payslips, 2 years Form 16, Income tax PAN copy
Bank statement: 6 month statement showing salary from employer and any EMI payments for debts outstanding at the time of application.
Documents Required for Self Employed – Professionals
Address proof: Passport/ License/ Registered Rent agreement/ Utility bill (up to 3 months old)
Identity proof: Passport/ License/ Voter ID/ PAN
Office address proof: Property documents/ utility bill
Office ownership proof: Property documents, utility bill, maintenance bill
Business existence proof: Company registration license, Shop Establishment Act, 3 year old Saral Copy
Income proof: Income tax returns, including income, P&L Account, Audit report, balance sheet etc for the last 3 years
Bank Statement: Past 1 year
1 passport sized photograph
Documents Required for Senior Citizens/ Pensioners
Passport sized photograph
Photo identity proof: Passport/ Driving License/ Voter ID/ PAN
Residence Address Proof: License/ Utility Bill/ Registered Rent Agreement
Age Proof: PAN/ Passport
Income Proof: Pension Returns/ bank statement
Home Loan Balance Transfer:
There are many reasons people apply for home loan balance transfers, that is, the process of transferring an existing bank loan to a different financial institution. The most common reason is a lower rate of interest offered by another bank. However this process includes not only submission of documents, but also validation of documents. These documents are:
Passport sized photographs
Home loan transfer form, filled out
Salary slips for the past 3 months, indicating the breakup of gross salary into basic pay, house rent, and net salary after deductions, if any.
Six months bank statements, reflecting salary credits within 15 days before applying
Identity proof: PAN/ Passport/ License/ Voter ID/ Employee ID card
Address proof: Utility bill/ Voters ID/ Aadhar card
Age proof: 10th or 12th mark sheet/ Birth certificate/ PAN/ Voter ID card
Proof of existence of business ( in case of businesspersons) and proof of academic qualifications ( for professionals); financial statements for both
Bank statements from the original lending bank, showing the last 12 EMI deductions
Loan statement copy, and all documents related to the property for which the loan was taken
Importance of Document Verification:
There are a lot of procedures like applying for a license, admission, or a new social media platform which require various levels of verification and identification. Banks and financial institutions are thorough than any other institution while verifying documents. This is
To know the age and nationality of the applicant. Age is an important factor for long term loans, as the person must be working till the time the loan is paid off, so that any complications regarding income and EMI payment can be avoided.
To ensure a proper record of all payments and their timings. If the EMI for 3 months is delayed, it will be reflected in the bank statement.
To verify the borrower's credit score in case of a home loan transfer. All the documents mentioned above will easily show and verify the credit score to judge whether a person is eligible or not. If the credit score is poor, the bank or NBFC will reject their application.
To determine the monthly income and other assets owned by the borrower. This is incase any assets need to be liquidated in case the borrower defaults on their payments.
Importance of Income Proof for A Mortgage Loan:
When you are looking for a mortgage loan, you are almost always looking for a lump sum amount. In this case you mortgage an asset, say a piece of land, in exchange for the lump sum amount. However banks still ask for proofs of income even though they already hold the asset. The reason is in case the borrower defaults on payments, the bank can easily sell off the asset and get their money back. However, selling off land is a time consuming process, and there is also the possibility of land value decreasing. For this reason even for mortgage loans, banks ask for income proof, to ensure the EMIs come in on time.
Patta:
Anyone who owns land is issued a document called 'patta' by the government. However this document is only issued for land which is in use. If your land is lying unproductive, you won't get a patta, but you will if there is a building built on it. Also if there are multiple owners of a single plot of land, then a single patta is issued for all the owners. However in this case, the property must be divided because a patta cannot be issued for undivided land with multiple owners.